Want to increase traffic on your WordPress blog?
We gotta improve your content.
The best content meets three requirements: readability, usefulness, and relevance. This is what both Google and readers need. If your content is easy to read, useful, and relevant, then many people will enjoy it.
And when the traffic goes up, Google will help you rank higher and higher.
Here are seven tips on how to make that happen.
1. Find the Right Topic Idea
The process of writing great content begins with an idea. This idea usually describes something that your readers care about.
That's why checking out online discussions, customer research, and blogs of competitors is a good idea to find these points. For example, Reddit is a huge source of inspiration for bloggers in any niche.
Take this Reddit discussion below for example.

Source: author's screenshot from a Reddit page
So, someone is asking for tips on beard trimming and grooming.
This very question — "How do you trim a beard?" — is something that interests a certain group of people, so it's a useful piece of customer research. And, the discussion received 15 comments, which suggests a decent level of interest.
If you're writing a blog for a business selling beard trimmers, this Reddit thread is already an idea for an article. You could turn it into a guide for beginners and organically add your products as options for quality trimming.
The bottom line: do research to define WordPress blog topics. Customer-inspired topics are the best, and Google will notice that, too.
2. Optimize for Search Intent
"Search intent" is a user's goal for a search query typed into a search engine. It's an SEO term that is essential to high rankings for any blog.
Let's demonstrate with a simple example.
The search intent for a Google search query "How to trim a beard" is to find a guide with proper beard trimming tips. This means the Google user wants to know what beard trimming products he needs to have + how to do it properly.
How do I know? That's easy — just check the results that Google found. For example, The People Also Ask section contains questions that answer the search intent. As you can see, these questions confirm that this search query is most likely to be made by someone who's never done that before.

Now, let's look at the "How to groom a beard" query.
The search results here are different. If we take a look at the People Also Ask section, we'll see that Google users are concerned with shaping a particular beard type or making it look more attractive. So, it's likely that these users have some knowledge of this activity but need more advanced tips.

The difference between these two search queries demonstrates the uniqueness of each search query. When you compile your keywords into one file, make sure to run each one — that's right, each keyword — through Google to see what kind of results it generates.
What would you be looking for—
Shaun Wilson, an expert blogger from DissertationCapital, advises: "If search results for all keywords are the same or very similar (it's not uncommon to find the same content for related keywords, too) — this means your keyword research addresses the search intent correctly."
But if some keywords generate different results and content, then consider removing them. Doing so ensures that your content won't confuse Google about where to rank it.
3. Use Headings and Subheadings
Can you imagine how this article would look like without headings and subheadings?
Like an unreadable wall of text.
Since most of us tend to "skim" through content to realize its meaning, a "wall-style" article wouldn't be a great candidate for reading. It's just... hard to read, that's all.
Adding subheadings is a great way to "break up" the text and make it easier to understand. Like in this article, we have seven subsections. They can give an idea about the article's content even if you quickly "skim" through it.
So, anyone who "skims" and sees the subheadings will be more likely to understand if there's some value for them.
The best way to use subheadings—
Plan them beforehand.
Make a list of potential subheadings for an article
Organize them to define the flow of the article
Remove subheadings with similar or identical meaning
This article below — one of the top results for "how to trim a beard" — has subheadings in bold, so it's easy to understand the content of each section. Nicely done!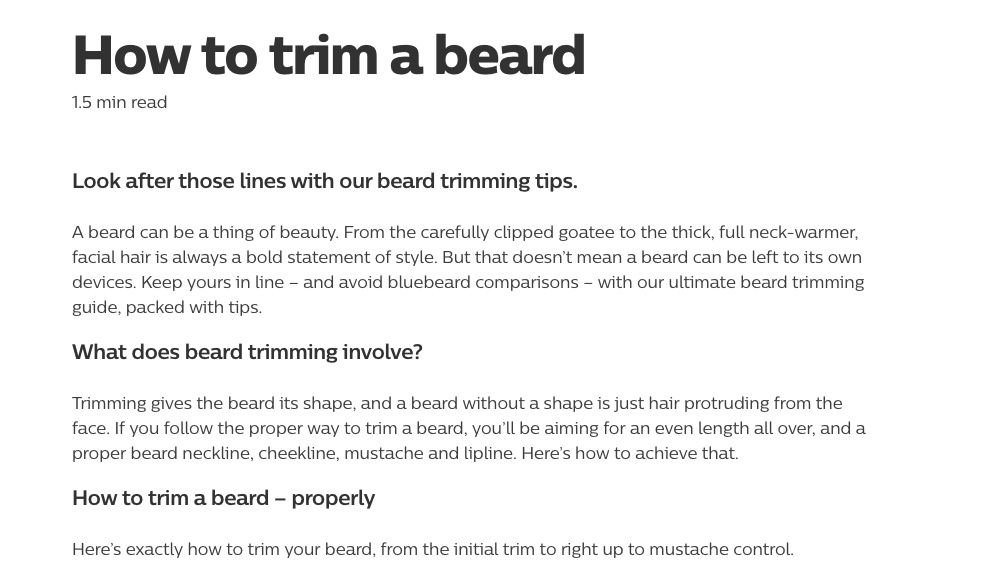 Source: author's screenshot from Philips.com
4. Use Lists
Adding numbered or bulleted lists are another way to break that wall of text. They make information easier to understand, which is something your readers appreciate.
If there's some information you can turn into a list—I strongly encourage you to do so. They will make any article more inviting and easy to scan, which is what "skimmers" prefer.
"Consider planning lists in your content where possible," recommends Damian White, a professional editor from TutoringHeroes. "The rule of thumb is that you should have at least three points to make a list, so plan accordingly."
You can turn most of your content into a list—
Here's how an article about beard trimming uses lists to make information easy to scan.
Source: author's screenshot from Birchbox
5. Create Original Visuals
Stock photos are everywhere.
So many blogs use them that readers can even tell if the photo has been reused. If you'd like your blog to appear more professional, consider creating original photos for your WordPress content.
No worries if you don't have any graphic design skills. There are free tools like Canva that allow creating simple visuals in a straightforward drag-and-drop editor—perfect for beginners. So you should be able to make visuals almost right away.
With tools like Canva, you can take tables, graphics, and visualizations of statistics, information points, etc. They will be a huge help for readers to understand your content.
Take this image below as an example. It visualizes the best beard styles for different face shapes. Describing these styles in writing would take quite a lot of text, so it's better to use a visual.
Author's screenshot from Beardoholic
6. Use Personal Experience
People often start blogs to share their experiences with others. This is a great way to build authority in a content niche and become a go-to source for advice seekers.
One approach to share personal experience is writing stories. It's easier for people to relate to other people, so reading stories is a simple way to get information and advice.
Personal experience is good to rely on because they:
Capture people's attention
Are easy to understand
Provide inspiration and details
Make it easier and faster to write
Besides, showing people how you dealt with a problem also makes you a thought leader. Becoming one will improve your reputation and website traffic, as more people will choose your blog for their needs.
7. Update Content Regularly
Consider refreshing every article on your WordPress blog every six months to keep information relevant. Google tries to provide the most relevant and updated information for its users, so its algorithm chooses the latest articles.
To ensure content relevance:
Search for similar articles on Google to see if they offer a more complete and updated information
Revise and update your content accordingly to ensure the best possible advice for readers
How to Create Great Content for WordPress Blogs: Summary
Great content is easy to read, useful, and relevant.
Consider using the seven tips in this article to meet these three essential requirements. If you do, the chance of your content ranking high and being popular will be much better.
Author's bio. Jessica Fender is a professional writer and educational blogger. Jessica enjoys sharing her ideas to make writing and learning fun.